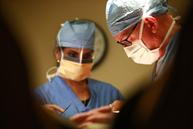 Most people hear "Mohs," and think it's an acronym. It isn't. Mohs surgery (technically, "Mohs Micrographic Surgery") is named after Frederic E. Mohs. He pioneered this state-of-the-art technique.
Interestingly, Dr. Peters' father, also a dermatologist, trained with Dr. Mohs in the mid-1960s. Treating patients with the most advanced technology and the highest level of compassion runs in the family.
With cure rates exceeding 99%, Mohs is the most successful treatment of skin cancer available. It's also less invasive, resulting in faster healing rates. And it can generally be performed under local—rather than general—anesthetic.