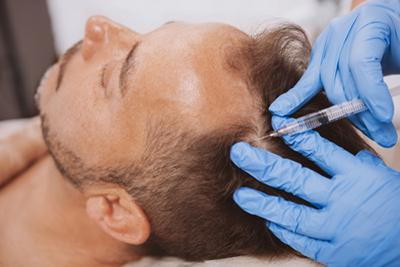 Dermatologists are known for treating a diverse range of skin concerns, but they can also help with hair loss. Many effective treatments are available for addressing hair loss in both men and women. Dr. Gerald Peters, the experienced dermatologist at Peters Dermatology Center in Bend, OR, treats hair loss and can recommend the right treatment for your needs.
Hair Loss in Men and Women
Hair loss can happen in both men and women, but usually in different ways. Hair loss in men often results in balding. While women also experience hair loss and even bald spots, they do not usually go bald in the same way as men. Women might notice the hair feels thinner, especially when pulled into a ponytail. Women might also experience receding hair around the temples, as well as a widening of the area where they part their hair.
According to research, approximately 85 percent of men will experience some degree of hair loss during their lifetime. For women, about a third of them will deal with hair loss at some point.
Whether it be thinning hair, bald spots, a receding hairline, or complete balding, there can be many factors that contribute to hair loss. Some causes of hair loss in men or women include:
Aging
Hereditary
Hormonal changes
Male pattern baldness
Female pattern hair loss
Alopecia or another condition
Extensive heat styling (e.g., curling or straightening irons)
Wearing hairstyles that are too tight
Certain medications
Cancer treatments
Stress
Hair Loss Treatments
A number of highly effective hair loss treatments are available to both men and women for stopping continued hair loss and promoting new hair growth. Common treatment methods include medications, nutritional supplements, laser treatment, and hair transplant surgery. There are also many new advancements in treating thinning hair or balding. At our dermatology center in Bend, OR, new and exciting treatments for hair loss include:
QR 678 — Non-surgical treatment for stopping hair loss and regrowing hair by injecting growth factors into hair follicles.
Plasma Therapy — This method utilizes platelets from the patient's own blood. These platelets are injected into balding areas to rejuvenate the scalp and improve blood supply to hair follicles. Often used to slow down balding in patients with early-onset hair loss.
Stem Cell Therapy — This non-invasive treatment delivers long-lasting results by utilizing stem cells to stop hair loss and potentially reactivate hair follicles that have become inactive.
Robotic Hair Transplant — Robotic hair transplant surgery is both more advanced and accurate than earlier hair transplant methods. Robotic surgery allows for more precise placement of transplanted hair with significantly less scarring and quicker healing.
If you are experiencing hair loss, we can help. Schedule an appointment with Dr. Peters to learn more about the different options for regrowing hair and preventing further hair loss by calling Peters Dermatology Center in Bend, OR, at (541) 323-7546.